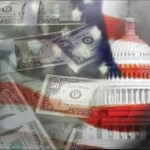 Effective October 1, 2010, there are new thresholds in Federal acquisitions. 
The major ones are:
1. The simplified acquisition threshold is increased from $100,000 to $150,000. This impacts many areas of the Federal Acquisition Regulations (FAR).
Simplified procedures (small purchases) can now be done up to $150,000.
Small business set asides will be mandatory for acquisitions under $150,000 instead of $100,000 (excluding those under $3,000 or on a GSA Schedule).
Various contract clauses that are not applicable below the simplified acquisition threshold will no longer apply to contracts until they exceed $150,000.
2. Commercial item test program ceiling is increased from $5.5 to $6.5 million. This allows for streamlined procedures such as the combined RFQ/announcement in Federal Business Opportunities (FedBizOpps) for commercial items up to $6.5 million.
3. Cost and pricing data threshold is increased from $650,000 to $700,000. Certified cost and pricing data will not be required until the contract or modification exceeds $700,000.
4. Subcontracting plan requirements threshold is increased from $550,000 to $650,000, with construction increasing from $1 million to $1.5 million. Large businesses will not need to do a subcontracting plan until the contract exceeds the new thresholds and will not have to require their own large subcontractors to do one until then either. 
Final rule with all of the changes: http://edocket.access.gpo.gov/2010/pdf/2010-21025.pdf
Things to Do Now:
If you are a small business, look for increasing opportunities in open market purchases up to $150,000. The government can use streamlined procedures and must set aside these purchases for small businesses. If your items are not yet on a GSA Schedule contract, there is now more flexibility for the government to make the purchase.
If you sell commercial items that are not yet on a GSA Schedule contract, look for more opportunities in the FedBizOpps under the special authority. They can now make simplified purchases up to $6.5 million.
To expand the government's ability to access your products without worrying about the new thresholds, you can get your items on a GSA Schedule contract.
– Locate partners now such as Technical Communities who will act for you in the market.
– Make sure they have full access to the products or services that are in demand for the government markets.