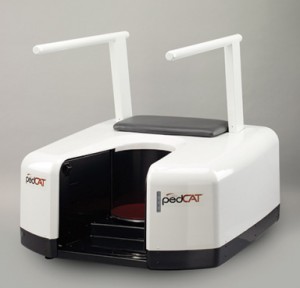 GSAmart is excited about a new partnership with CurveBeam to offer the government users advanced 3D imaging equipment and solutions for orthopedic and podiatry specialties. CurveBeam manufactures the pedCAT®: a TRUE weight bearing, cone beam 3D imaging for the foot and ankle. The company's mission is to offer new cone beam CT capabilities to the orthopedic and podiatry specialists at a more affordable price than traditional CT equipment with less radiation dose to the patient.
The pedCAT® is the first true in-office cone beam 3D scanner for the foot and ankle. It is designed to access clinical conditions for the foot and ankle region, which allows for confident planning of optimal surgery and treatment planning in minutes. Although it has virtually the same radiation dose, the diagnostic information captured from the pedCAT scan cannot be seen in regular 2D x-rays.
The pedCAT® system comes complete with CubeVue software installed, giving you powerful interpretation and treatment planning tools at your fingertips. CubeVue allows users to quickly build various 3D renderings and scroll through the complete volume data. Window sizes and views can be customized for easy comparison and presentation.
Government customers can now contact GSAmart at 888-665-2765 for more information and pricing on CurveBeam products.