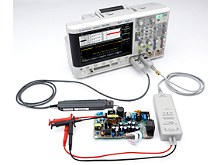 Power designs present many measurement challenges. Agilent's InfiniiVision X-Series oscilloscopes offer a wide range of prices, features and probing options to get the best results for your project and budget.
5-in-one design: oscilloscope plus options for logic analysis, protocol analysis, 3-digit voltmeter, and function generator w/ AWG
1M waveforms per second update rate to capture the most elusive signal variances
Over a dozen applications for the 3000 X-Series, including power analysis for integrated power analysis capability
Dozens of probing options, including passive, active, current and differential
The DSO3XPWR option is a power measurement and analysis option that is integrated into InfiniiVision 3000 X-Series scopes. The embedded application provides a quick and easy way of analyzing the reliability and efficiency of your switching power supply.
Learn more:
Product Page – DSOX3PWR Power Measurements for the InfiniiVision 3000 X-Series Oscilloscopes
Application Note – 7 Hints that Every Engineer Should Know when Making Power Measurements with Oscilloscopes
Call TestMart at 888-665-2765 for a GSA quote