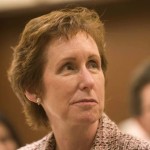 The General Services Administration's top official abruptly resigned and her top deputies were fired or put on administrative leave Monday amid a breaking scandal that the White House chief of staff called "a gross misuse of taxpayer dollars."
In resigning, GSA Administrator Martha Johnson said she made a "significant mis-step" when her agency squandered taxpayer dollars on its annual training conference in Las Vegas in 2010.
"I feel I must step aside as administrator so that the agency can move forward at this time with a fresh leadership team," Johnson wrote in her resignation letter.
Bob Peck, commissioner of the agency's Public Building Service (PBS), and Johnson advisor Stephen Leeds were also removed from their positions.
Dan Tangherlini, the Treasury Department's former assistant secretary for management, chief financial officer, and chief performance officer will take over for Johnson, according to GSA spokesman Greg Mecher.
Jack Lew, White House chief of staff, said in a statement that the administration acted quickly to discipline those responsible for the scandal.
"When the White House was informed of the inspector general's findings, we acted quickly to determine who was responsible for such a gross misuse of taxpayer dollars. The president was informed before his trip to South Korea, and he was outraged by the excessive spending, questionable dealings with contractors, and disregard for taxpayer dollars," Lew said.
GSA's Public Buildings Service spent $822,000 on the biennial Western Regions Conference in Las Vegas for only 300 employees, according to an inspector general's report.
The expenses included $147,000 for airfare and hotel lodging for six planning trips by conference organizers. That figure included $100,000 on two "scouting trips" and five off-site meetings and an additional $30,000 on catering costs for those trips, according to the report.
Among the other expenses were $3,200 for a mind reader; $6,300 on a commemorative coin set displayed in velvet boxes; and $75,000 on a training exercise to build a bicycle, according to the IG report, which was obtained by Federal Times.
GSA also promised the hotel an additional $41,480 in catering charges in exchange for the "concession" of the hotel honoring the government's lodging limit.
The agency also spent $44 a person per breakfast and $95 per person for its closing reception dinner.
The agency also spent money on mementos for attendees, clothing for GSA employees and tuxedo rentals, according to the report.
House Transportation Committee Chairman John Mica, R-Fla., which oversees GSA's Public Buildings Service, said he plans to hold a press conference Tuesday on the matter.
In addition to the resignations, the General Services Administration is placing four regional commissioners on administrative leave and is canceling all future western region conferences, according to GSA spokesman Greg Mecher.
GSA also said it will:
• Reduce all 2013 travel budgets for GSA Public Buildings Service (PBS) regional offices 7, 8, 9 and 10 and shift oversight of those regions' budgets to PBS headquarters in Washington.
• Require mandatory annual training for all employees regarding conference planning and attendance.
• Strengthen contracting oversight for all conference-related activities.