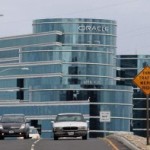 The General Services Administration has canceled Oracle's Schedule 70 contract, offering little explanation.
After reviewing the company's GSA Schedule 70 contract, "it was determined that it was not in the best interest of the government to continue the contract," Mary Davie, assistant commissioner of the Federal Acquisition Service's Office of Integrated Technology Services, said in a statement.
GSA officials would not provide more any details. However, a spokeswoman said April 19 the contract that has been canceled due to the company not meeting the terms of the contract. The GSA Schedules provide agencies an easy way to purchase commodities and some services. Schedule 70 is specifically for IT.
The cancellation takes effect May 17.
It doesn't mean that Oracle won't continue doing business with the government. It has other contracts. Mark Amtower, partner of Amtower and Company, said the GSA Schedule contract accounts for less than 7 percent of total government purchases. Oracle offers services through other avenues, such as NASA's Solutions for Enterprisewide Procurements (SEWP) and other Defense Department indefinite-delivery, indefinite-quantity (IDIQ) contracts.
"Oracle losing its GSA contract is news, but don't overlook these facts," he wrote in a comment on Washington Technology's initial story about the cancellation.
As a result of GSA's cancellation, all blanket purchase agreements (BPAs) awarded against the contract will end. Existing task orders may continue through their set period of performance but agencies will be unable to exercise options to these task orders or place new orders.
Agencies can still buy Oracle's software and software maintenance products through resellers with active IT schedule 70 contracts, Davie said.
GSA has notified agency customers through Federal Business Opportunities website and is contacting agencies with known BPAs directly.