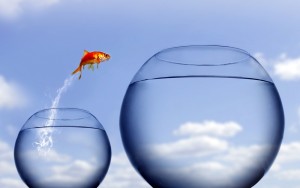 On September 27, 2010, President Obama signed into law the Small Business Jobs and Credit Act of 2010 (H.R. 5297), a "small business stimulus" bill intended to create jobs by providing a variety of financial assistance to small businesses. 
Key contracting provisions of the new law fall principally into 3 areas:
1.  Improving identification of real small businesses
Small Business Certification Integrity – The law imposes new penalties for firms who misrepresent their size when they get a government contract. Contractors that misrepresent their size status will have to pay back the total amount which the government spent on the contract if it was intended for small businesses. 
Annual Size Certification – The law now requires all small businesses to recertify their size status on an annual basis through the Online Representations and Certifications Application. Until now, small business contractors only had to recertify their size status prior to the fifth contract year on long-term contracts, and every year thereafter. This allowed agencies to receive small business credits in the first 5 years of a long term contract even when a company was no longer small. Now a business will have to be certified small each year of their contract for an agency to receive small business credit.
2.  Subcontracting issues
Payment of Subcontractors – There have been many complaints that companies do not pay their small business subcontractors in a timely fashion. Under the new law, when the prime contractor is required to have a small business subcontracting plan, the prime must notify the agency when either (a) they pay a reduced price to a subcontractor for work completed, or (b) a payment to a subcontractor is more than 90 days past due. 
The contracting officer must consider the unjustified failure by a prime contractor to make a full or timely payment to a subcontractor in evaluating the performance of the prime contractor. Additionally, a prime contractor with a history of unjustified, untimely payments to subcontractors will be included in the Federal Awardee Performance and Integrity Information System (FAPIIS) for future responsibility determinations by other agencies.
Subcontracting Plan Integrity – There have been many complaints that prime contractors make all kinds of promises about using small business subcontractors when they are trying to win a contract and then do not award any work to them afterwards. Under the new law, offerors will be required to make, as part of their small business subcontracting plans, an affirmative representation that they will make a "good faith effort" to acquire the goods and services from the small business concerns used in preparing and submitting to the contracting agency the bid or proposal, in the same amount and quality used in preparing and submitting the bid or proposal.  Contractors will also have to explain in writing to the contracting officer why they failed to comply with their proposed subcontracting plan.
3.  Improving small business programs 
Small Business Contracting Parity – The new law eliminates the statutory preference for HUBZone concerns. Agencies are no longer required to set aside contracts for HUBZone concerns before considering set-asides for 8(a), service-disabled veteran-owned or women-owned concerns and can decide to use any set-aside type that suits their program goals.
Expanding the Mentor-Protégé Program – As part of the attempt to restore "parity" among the various small business contracting programs, the new law also allows for the establishment of a mentor-protégé program for small business concerns owned and controlled by service-disabled veterans, small business concerns owned and controlled by women, and HUBZone small business concerns, and will be modeled after the existing mentor-protégé program for 8(a) concerns. Details of these programs will be issued later.
Contract Bundling Accountability – Contract bundling occurs when an agency decides to combine 2 or more contracts that were previously performed by small businesses into one contract that may be too large for small businesses to perform. In an effort to preserve small business contracting opportunities, the new law reduces contract bundling by lowering the bundling threshold from $10 million to only $2 million. Agencies must also publish on their website a list and rationale for any bundled contract for which the Federal agency solicited bids or that was awarded by the Federal agency. These new provisions should significantly improve the transparency of agency bundling decisions and provide affected small businesses with an opportunity to hold agencies accountable.
Things to Do Now:
Check your NAIC code size standard. The requirements to recertify will come through the Online Representation and Certification (ORCA) system.
If you are a small business, look for increasing opportunities and a better playing field when dealing with prime contractors. Be aware of the prime contractor requirements when establishing teaming agreements.  
Also watch for the new mentor-protégé program opportunities. Large businesses that have established programs will be able to expand them to include other types of disadvantaged businesses.
To expand the government's ability to access your products without worrying about the new requirements you can get your items on a GSA contract.
– Locate partners now such as Technical Communities who will act for you in the market.
– Make sure they have full access to the products or services that are in demand for the government markets.