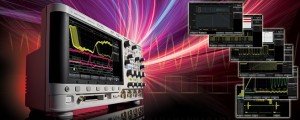 Oscilloscopes are redefined with Agilent's breakthrough technology that delivers more scope for the same budget. The Agilent InfiniiVision 3000 X-Series offers entry-level price points to fit cusomter's budget with superior performance and optional capabilities that are not available in any other oscilloscope in its class. 
Customers can do more with the power of 5 instruments in 1: Oscilloscope, Logic timing analyzer, WaveGen built-in 20 MHz Function/Arbitrary Waveform Generator (optional), Integrated Digital Voltmeter and protocol analyzer (optional). The InfiniiVision 3000 X-Series features the deepest memory in its class with up to 4 Mpts of Agilent's patented MegaZoom IV technology that is always enabled and always responsive providing the industry's fastest update rate at up to 1 million waveforms per second, with no compromise if you turn on measurements or add digital channels.
In addition, the 3000 X-Series offers 33 automated measurements, nine parametric triggers, serial protocol triggers, as well as waveform math functions including FFT. All of this at a comparable price to the Tektronix DPO2000 oscilloscope.
Learn more:
Product Page – Agilent InfiniiVision X-Series
Application Note – When is it Time to Transition to a Higher Bandwidth Oscilloscope?
Demo – See More, Do More, Get More, Industry Comparison, 360 Degree View, Product Specs
Call TestMart at 888-665-2765 for a GSA quote