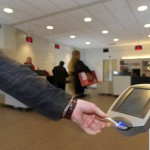 Qmatic is the inventor of Customer Flow Management (CFM) and is the world's leading queue management company.
Qmatic provides complete systems for managing the flow of visitors, patients, or customers from initial contact through final service delivery. Government agencies deploy Qmatic solutions in service/visitor centers, access areas/reception, post/gates, waiting rooms, and many other areas within their facilities that handle high traffic volumes. Implementing these solutions has proven to reduce waiting times, increase staff satisfaction levels and improve the overall customer experience. Rich management reporting provides insight into daily activities and supplies the data necessary to intelligently drive operational improvements.
Maintaining service levels is a daily challenge that is exasperated by the need to balance quality customer service with government guidelines and targets. Thousands of public sector organizations from local, county and state government to embassies and consulates don't simply maintain but improve their service levels using a Qmatic CFM solution.
Qmatic solutions range from independent and networked virtual and linear CFM systems, to kiosk systems, digital signage and an accompaniment of CFM specific hardware. With Qmatic CFM solutions, government organizations can reduce costs while increasing sales and processing capacity, improve customer and staff satisfaction, and derive real-time management information (MI) that powers meaningful operation decisions.
Call TestMart at 888-665-2765 for GSA pricing.