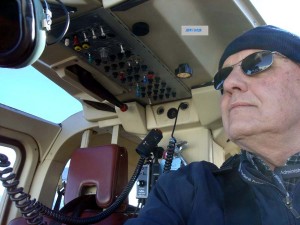 High above the Fryingpan Valley in Colorado looms Red Table Mountain, a massive 18-mile long sandstone ridge protruding sharply from the valley below. The mountain top is accessible by a 4-wheel drive vehicle just two months of the year, a bumpy ride up a single lane road so rough it can wear out the wheels of an army jeep in a single trip. The rest of the year, the only way to the top is by helicopter. Here, at the clear altitude of 12,000 feet, FAA maintains a radar site for guiding aircraft over the Continental Divide. It is arguably one of the worst locations for a radar failure to happen.
Most radar sites are operated on commercial power, and are backed up by a generator with a Power Conditioning System (PCS). The PCS supports the Critical Radar Loads during power bumps, power spikes, voltage sags and transitions from commercial to engine-generated power. The static switch and the PCS unit have to make the transition in less than 4 milliseconds to ensure uninterrupted function of the beacon, radio transmitters and other radar equipment. The PCS at the Red Table Mountain site had a frustrating problem: PCS batteries were supposed to last up to 4 years, but they only lasted a year to year and a half. The frequent replacement of the batteries was costly and time-consuming. The site personnel suspected that the PCS unit was going to batteries frequently, without the engine sensing a power failure. It was not clear why this would be happening, so they requested assistance in identifying the problem.
Full article by Ani Dimusheva, Power Standards Lab
Call TestMart at 888-665-2765 for government pricing.