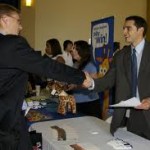 Over the past year I have attended many of the local "Speed Dating/Teaming events" being held by INPUT, (recently acquired by Deltek) Delteck, FedSources and a few others firms. Most of these events have been held in connection with a specific upcoming Government procurement and a few have been general "meet the SIs" speed dating events.
If you are not familiar with these Govt SI Speed Dating/Teaming events… a number of the larger SIs attend, they sit behind a small table, firms that have an interest in connecting with the SI community pay to attend and have a set amount of time (8 to 10 minutes) to speak with each SI.
Some of my observations:
·         Most of these events are well attended
o    Which shows that there is a need for services and activities tot help companies connect to the SI community events
·         Most often the SIs in attendance are from their small business liaison office
o    Which means you most likely will not be meeting with senior management or senior technical SI folks
·         Most of the attendees are small business, SDB, 8(a) services firms vs. product firms
o    Hence the SI small business liaison folks behind the table
·         Most (but not all) of the attendees do not fully understand the program or the program requirements and have not prepared properly in presenting their value proposition to interested SIs
o    Which means if you are going to spend the money and the time you better understand the program requirements and have a strong value proposition on how you are going to help the SI win
·         Some of the SI attendees (the ones from their small business liaison office) do not understand the requirements of the program being discussed
o    Which means all you can do is present your overall offerings and value proposition and request a list of their key contacts that makes sense to your business that you can follow up with
But….. what I see missing from these Speed Dating events are the product firms and SI folks responsible for architecting the solutions. Many of the products firms can actually be a game changer for the SI in how they might architect their offerings on a bid.
The big guys (Microsoft, NetApp, EMC, Oracle.) seem to always have access to the SIs, but not the mid to smaller product firms. Wouldn't it be great if you (the product firm) could have a discussion on how your offerings might affect the technical solution on a specific program?
Having product firms discuss their value on a particular program might just add more unique value to the SIs than meeting the small/SDB type firms.
By Scott Lewis, President, PS Partnerships