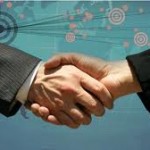 The Trade Agreements Act (TAA) (19 U.S.C. 2501, et seq.) is the enabling statute that implements numerous multilateral and bilateral international trade agreements and other trade initiatives. Since the estimated dollar value of each Schedule exceeds the established TAA threshold, the TAA is applicable to all Schedules. The federal government maintains a list of countries with which it has trade agreements. If a country does not have a trade agreement with the United States, then you may not provide these products or services on your GSA Schedules contract. 
So what does this mean? The Trade Agreements Act is different from the Buy America Act. To start, there are two terms to become familiar with.  The TAA applies to "U.S and Designated country end products."
First, the TAA applies to end products. An end product is an article that—
(1) Is wholly the growth, product, or manufacture of a TAA country; or
(2) In the case of an article that consists in whole or in part of materials from another country, has been substantially transformed in a TAA country into a new and different article of commerce with a name, character, or use distinct from that of the article or articles from which it was transformed. The term refers to a product offered for purchase under a supply contract, but for purposes of calculating the value of the end product includes services (except transportation services) incidental to the article, provided that the value of those incidental services does not exceed that of the article itself.
Therefore the TAA does not apply to components that make up the end product, as long as the end product meets the substantial transformation test indicated above.  All of the components in an end product can come from non-TAA countries as long as the transformation occurs. This is different from the Buy America Act where the value of American made components is used to determine eligibility. It can be a complicated determination when systems are being offered.  If there is a doubt about whether an end product meets the definition, a company can get a customs judgment and/or take it to the contracting officer to negotiate coverage of the proposed end product.
Next, the TAA applies to the end products of a "Designated country" This means any of the following countries, the U.S. and:
(1) A World Trade Organization Government Procurement Agreement country (Aruba, Austria, Belgium, Bulgaria, Canada, Cyprus, Czech Republic, Denmark, Estonia, Finland, France, Germany, Greece, Hong Kong, Hungary, Iceland, Ireland, Israel, Italy, Japan, Korea (Republic of), Latvia, Liechtenstein, Lithuania, Luxembourg, Malta, Netherlands, Norway, Poland, Portugal, Romania, Singapore, Slovak Republic, Slovenia, Spain, Sweden, Switzerland, Taiwan (known in the World Trade Organization as "the Separate Customs Territory of Taiwan, Penghu, Kinmen and Matsu" (Chinese Taipei)) or United Kingdom);
(2) A Free Trade Agreement country (Australia, Bahrain, Canada, Chile, Costa Rica, Dominican Republic, El Salvador, Guatemala, Honduras, Mexico, Morocco, Nicaragua, Oman, Peru, or Singapore);
(3) A least developed country (Afghanistan, Angola, Bangladesh, Benin, Bhutan, Burkina Faso, Burundi, Cambodia, Central African Republic, Chad, Comoros, Democratic Republic of Congo, Djibouti, East Timor, Equatorial Guinea, Eritrea, Ethiopia, Gambia, Guinea, Guinea-Bissau, Haiti, Kiribati, Laos, Lesotho, Liberia, Madagascar, Malawi, Maldives, Mali, Mauritania, Mozambique, Nepal, Niger, Rwanda, Samoa, Sao Tome and Principe, Senegal, Sierra Leone, Solomon Islands, Somalia, Tanzania, Togo, Tuvalu, Uganda, Vanuatu, Yemen, or Zambia); or
(4) A Caribbean Basin country (Antigua and Barbuda, Aruba, Bahamas, Barbados, Belize, Bonaire, British Virgin Islands, Curacao, Dominica, Grenada, Guyana, Haiti, Jamaica, Montserrat, Saba, St. Kitts and Nevis, St. Lucia, St. Vincent and the Grenadines, Sint Eustatius, Sint Maarten, or Trinidad and Tobago).
Notably missing are China and Malaysia.   China has been in discussion for a long time but there is no new progress.  On November 12, 2011, the Leaders of the nine Trans-Pacific Partnership countries – Australia, Brunei Darussalam, Chile, Malaysia, New Zealand, Peru, Singapore, Vietnam, and the United States – announced the achievement of the broad outlines of an ambitious, 21st-century Trans-Pacific Partnership (TPP) agreement. President Obama along with the other eight TPP leaders agreed to seek to finalize an agreement in the coming year. The US is working to implement the approved trade agreements with Colombia, and Panama.  This would provide the basis for those countries' approval under the TAA.  When countries achieve their final approvals, the Federal Acquisition Regulations (FAR) Part 25 will be updated to include them in the lists.
But there are still a number of other popular manufacturing countries that are not party to the agreements. If the end item is not substantially transformed in one of the covered countries, it may not be offered on the GSA Schedule contracts.  This applies even if the product is being offered by a dealer and not the manufacturer. The GSA Inspector General and the Department of Justice take this requirement very seriously.  There have been a number of high dollar value settlements with companies that did not pay attention to the TAA requirements.
Things to Do Now:
Determine the end products you wish to offer.
Validate the Country of Origin for all ofyour end products.
Subscribe to GovContracts to receive notices of opportunities (http://search.govcontractsmagazine.com/contracts/fbosearch.cfm)
To expand the government's ability to access your products you can get your items on a GSA Schedule contract.
Locate partners now such as Technical Communities who are small businesses.
Make sure they have full access to the TAA qualified products or services that are in demand for the government markets.