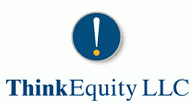 Peter Ostrow, the president and CEO of Technical Communities, will present at ThinkEquity's Seventh Annual Private Company and Venture Capital Summit: ThinkTomorrow ~ Today (TTT) being held at the Four Seasons Silicon Valley in East Palo Alto, CA from May 9-11.
Mr. Ostrow will discuss the company's solutions and successes in four main verticals: precision instruments, IT, medical and life sciences. A question and answer session will follow the presentation, and one-on-one meetings can be arranged through ThinkEquity.
ThinkEquity provides insightful research and institutional investment banking services for the stars of tomorrow, today. The two-day summit gives institutional investors access to executive management and experts from many fast-growing companies representing various sectors, including: cleantech, communication, eCommerce, education, digital media, IT infrastructure, marketing services, online gaming, semiconductors and software.