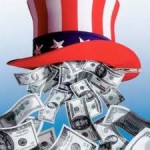 There are 2 kinds of Blanket Purchase Agreements (BPAs) and it can be confusing as to when each one is used and what the rules are for each.  Understanding which one is being used is critical since the rules governing them are different.
Traditional BPAs are covered in FAR Subpart 13.3, Simplified Acquisition Methods.  In 13.303-1, it describes a BPA as a "simplified method of filling anticipated repetitive needs for supplies or services by establishing 'charge accounts' with qualified sources of supply."  In this case, the BPA is established against the open market.  That means there is no contract covering the items. 
There are several reasons to create this type of BPA: there is a wide variety of items in a broad class of supplies or services that are generally purchased, but the exact items, quantities, and delivery requirements are not known in advance and may vary considerably; there is a need to provide commercial sources of supply for one or more offices or projects in a given area that do not have or need authority to purchase otherwise; the use of this procedure would avoid the writing of numerous purchase orders; and there is no existing requirements contract for the same supply or service that the contracting activity is required to use. FAR Part 13 describes simple processes for establishing these BPAs. Contracting officers simply "consider suppliers whose past performance has shown them to be dependable, who offer quality supplies or services at consistently lower prices, and who have provided numerous purchases at or below the simplified acquisition threshold."  They also need to establish the number of BPAs appropriate "to provide maximum practicable competition."
The rules for using this type of BPA are relatively simple. FAR 13.303-5 describes the steps required to purchase under a BPA.  First, the order size must be under the simplified acquisition threshold ($150,000 or $6.5 million on commercial item acquisitions conducted under FAR13.5).  Next, the existence of a BPA does not waive the requirements for competition or small business requirements. There must be sufficient number of BPAs to have competition or a sole source justification must be done.  Additionally, FAR Part 19 mandates setting aside acquisitions under the simplified acquisition threshold for small businesses. Simple ordering procedures are preferred such as electronic orders or oral orders.
FAR section 8.405-3 discusses the establishment and use of BPAs created against a Federal Supply Schedule (FSS).  These are BPAs that "ordering activities may establish… under any schedule contract to fill repetitive needs for supplies or services.  Ordering activities shall establish the BPA with the schedule contractor(s) that can provide the supply or service that represents the best value."  FSS BPAs offer value to customers in the form of an opportunity for streamlined and oftentimes cost savings contract creation and, importantly, in the fact that they are supported by GSA's Schedule contracts.  The FSS BPA is not a separate contract; it relies on the underlying FSS contract. This is significant because the schedule underlying this type of BPA is already a negotiated and established contract.  It is the backbone of the BPA, and has associated contract terms and conditions, and appropriate clauses, which are refreshed frequently.   The FSS price has already been determined to be fair and reasonable so contracting officers do not need to do further price justifications for BPAs.  
The new FAR 8.405 establishes new competition procedures for creating FSS BPAs FSS and placing orders under the BPAs that—
-Creates a preference for multiple award BPAs, rather than single-award
-Requires justifications for single award BPAs And includes a limit of $100 million for a single award BPA, including options, if the justification is approved
-Establishes competition requirements for placing orders under multiple award
BPAs that require the ordering activity to:
(i) provide a Request for Quotation (RFQ) to all BPA holders offering the required supplies or services under the BPA for orders  over the SAT
(ii) afford all BPA holders an opportunity to submit a quote,
(iii) fairly consider all responses received, and
(iv) make award in accordance with the selection procedures; and Restricts the circumstances when a BPA may be established based on a limited-source justification
The small purchase FAR Part 13 BPA is not a contract and does not offer the same stability that a FSS BPA does.  Under a FAR Part 13, an order using small purchase procedures is not a contract until the contractor accepts it.  Nevertheless, an open market BPA is not bound by Schedule offerings, and can cover supplies and services beyond those.
Things to Do Now:
Make sure your GSA Schedule is up to date with the products or services for the end of year buying opportunities.
Make sure that in your GSA Schedule contract you have agreed to the support the program and separately report the sales.
Subscribe to GovContracts to receive notices of opportunities (http://search.govcontractsmagazine.com/contracts/fbosearch.cfm)
To expand the government's ability to access your products you can get your items on a GSA Schedule contract.
Locate partners now such as Technical Communities who have already agreed to support the Disaster Recovery Purchasing program and will act for you in the market.
Make sure they have full access to the products or services that are in demand for the those government markets.